Date and Time
Tuesday Jul 19, 2022
5:00 PM - 7:00 PM CDT
TUESDAY, July 19, 2022
5:00-7:00PM
Location
Event will be held at the Pond at Rivers Edge Campground
3266 Campsite Drive, Stevens Point, WI 54482
Parking is available right near the pond

Fees/Admission
Members and their guests are invited to attend at no cost.
Non members should call our office to receive their "GUEST PASS" to attend.
Pre-registration is required.
Registration deadline: Monday, July 18, 2022
If online registration is closed and you would like to register, please call our office at 715-344-1940
Website
Description
Join us for BUSINESS AFTER HOURS
TUESDAY, July 19, 2022 - 5:00PM to 7:00PM
​Sponsored by: Rivers Edge Campground, 3266 Campsite Drive, Stevens Point
Event will be held at the Pond, so bring your swimwear and your family! Parking is available right near the pond.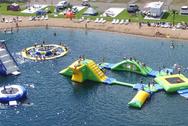 Join the Rivers Edge Campground team as they treat attendees to complimentary food and refreshing lemonade by itself or with vodka. Don't forget to bring your business cards for a chance to win raffle drawings including a 2-night stay in a cabin, a 2-night camping stay or 4 waterpark passes. A 50/50 raffle will also be played.
Attendees are welcome to bring your children for swimming. Don't miss the fun! Golf cart tours will also take place.
WHAT IS BUSINESS AFTER HOURS? A social event designed for and hosted by Business Council members to give business professionals an opportunity to network, share ideas and have their facility seen by other members. The member host(s) furnishes refreshments and hors d oeuvres for the evening. A different Business Council member hosts Business After Hours every month. Members are welcome to co-host the event with another Business Council member. Members should call to book the month they are interested in hosting as early as possible. Sponsorship opportunities are available. For more information contact Karen Myers at the Portage County Business Council.